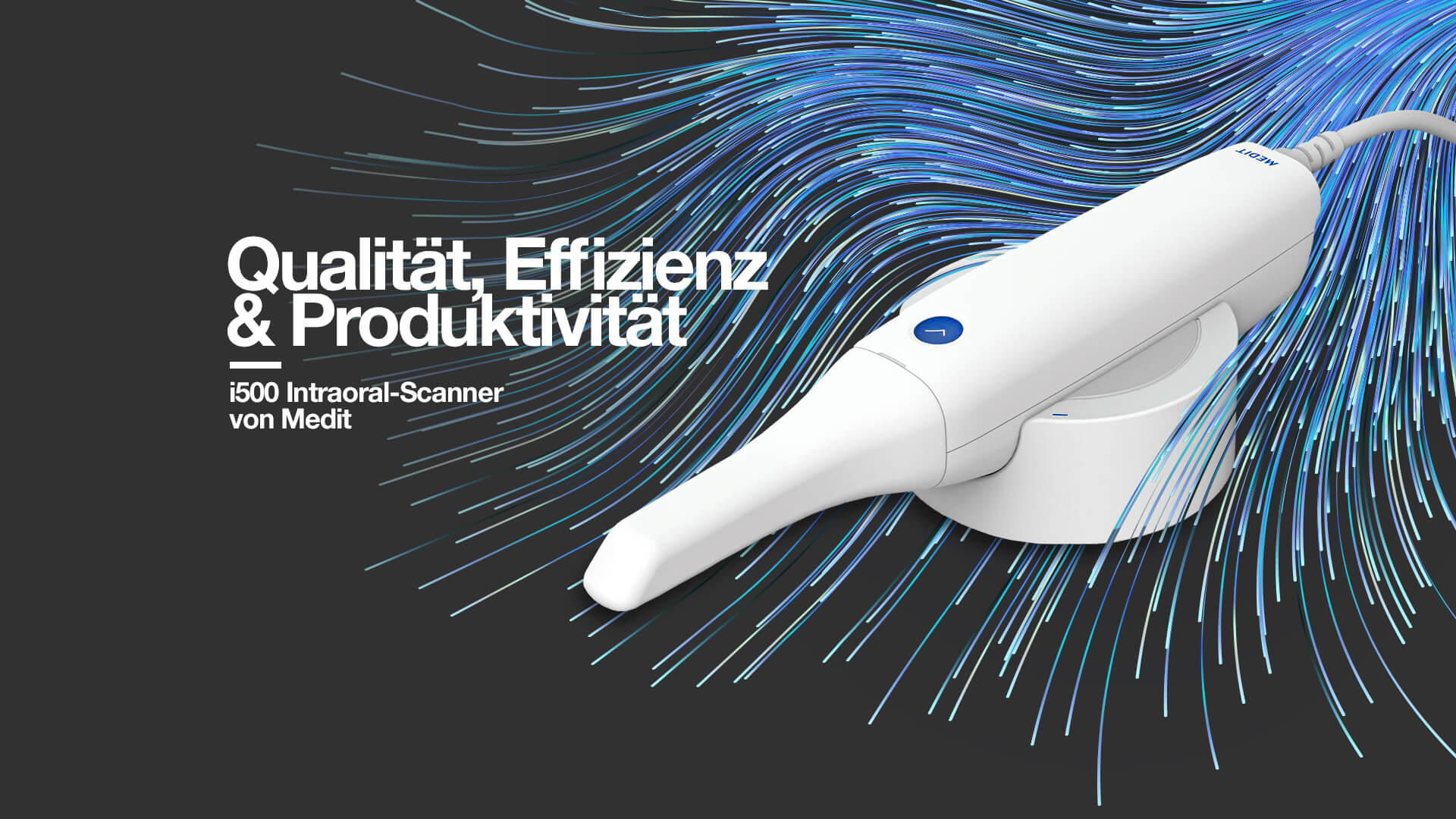 CS 3600 – Profitabel & effizient. Die digitale Abformung im CADstar Dental Network

Leichtgewicht
Ermöglicht komfortablen Umgang

High-Speed
2 Kameras sorgen für reibungsloses Scan-Erlebnis

Scan- und Stopptaste
Intelligenter Erkennungsalgorithmus macht dort weiter, wo er aufgehört hat

Gestochen scharf
Unterscheidungsmöglichkeit zwischen Zahnhartsubstanz und Weichgewebe

Flexibilität
Offenes CAD/CAM-System (STL)

Puderfrei
nahtloser Scanvorgang und angenehmer für Patienten

Kleine Spitze
Manövrierfähiger und verbessert Patientenkomfort

Präzision *
4,2 μm
* Einzelkrone:
Richtigkeit (Genauigkeit) = 4,2 μm (±0,49 μm)
Genauigkeit (Konsistenz) = 2,1 μm (±0,58 μm)
Der Einzelkronen-Genauigkeitstest wurde von Medit nach den Methoden in "Evaluation of the Accuracy of Six Intraoral Scanning Devices: An in-vitro Investigation. ADA Professional Product Review 2015" durchgeführt.
* Quadranten:
±50 μm / Ganzer Kiefer: ±100 μm
Das Referenzmodell für die Genauigkeit von Quadranten und ganze Kiefer wurde mit einem industrietauglichen, hochgenauen Referenzscanner Solutionix D700 (6,4 Megapixel, Advanced Blue Light Technology für kleine Objekte) gescannt.
Perfekte Kombination
von Soft- und Hardware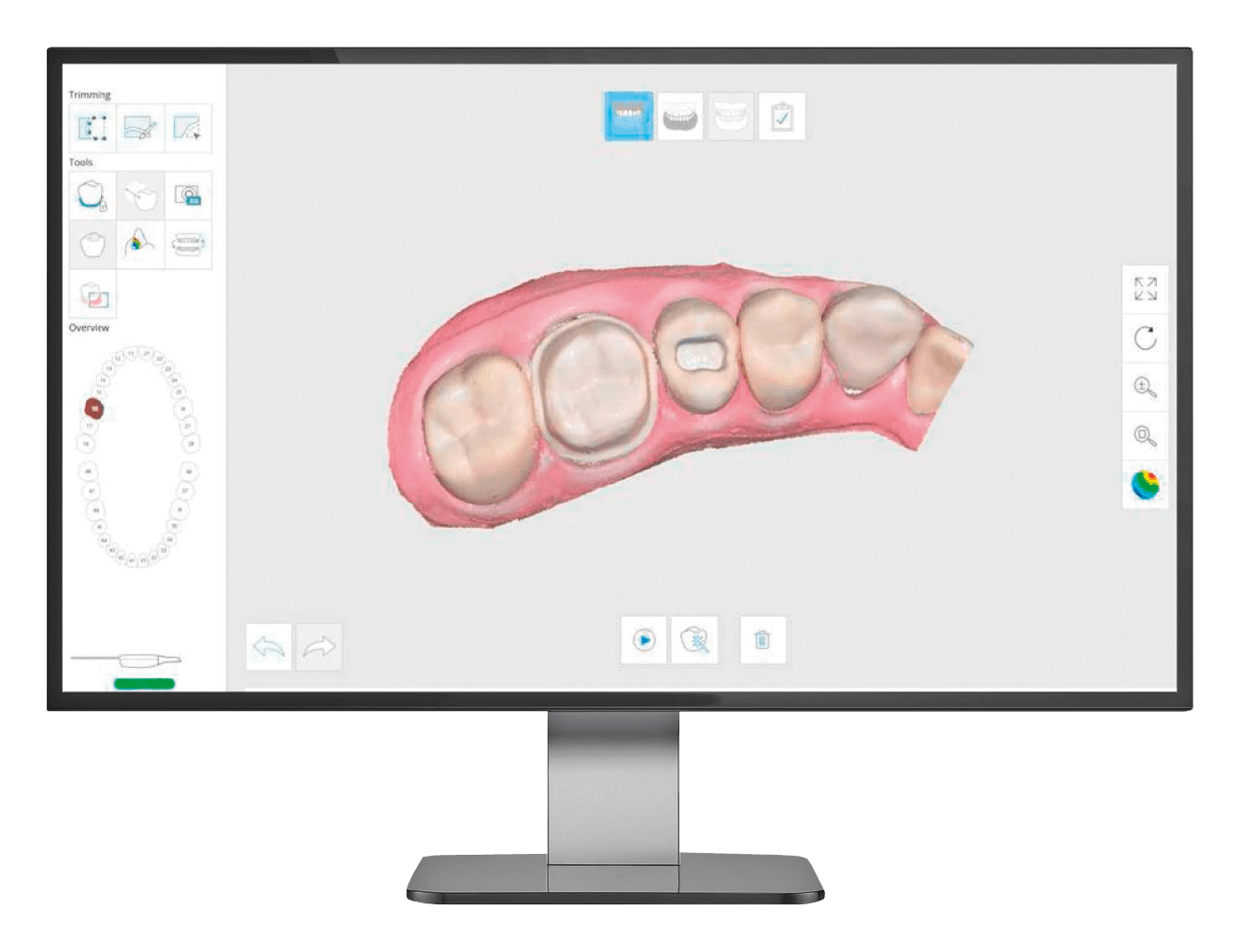 Benutzerfreundliche
Oberfläche
—
Unsere Software-Benutzeroberfläche ist besonders intuitiv, so dass Sie weniger Zeit für das Scannen und mehr Zeit für die Diagnose und Behandlung Ihrer Patienten aufwenden können.
Analyse von unter sich gehenden Bereichen
Mit dieser Funktion können Sie unter sich gehende Bereiche anhand der Einschubrichtung analysieren. Sie können die Einschubrichtung über zwei Methoden einstellen (automatische oder manuelle Richtung).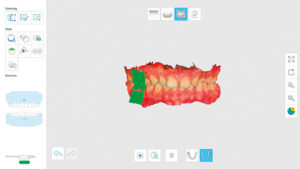 Automatische Ausrichtung
Die iScan-Software bestimmt die Okklusion automatisch mit einem einfachen Scan des Bisses.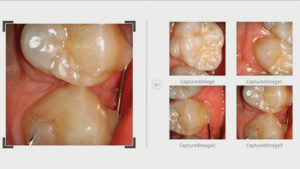 HD Camera
Sie können 2D-Bilder ohne 3D-Modelldaten aufnehmen und die Bilder mit Ihrem Labor teilen.
Bereich sperren
Sie können einen Scanbereich durch Einfärben sperren so dass der gesperrte (farbige) Bereich durch weiteres Scannen nicht mehr aktualisiert wird. Benutzen Sie diese Funktion, um die eingezogene Gingiva nach dem sofortigen Scannen zu fixieren, da sie kollabieren könnte. Die gesperrte Fläche kann noch zugeschnitten werden. Gelöschte gesperrte Flächen können erneut gescannt werden.
Okklusionsanalyse
Die Okklusionsanalyse kontrolliert und zeigt die Interferenz zwischen Ober- und Unterkiefer und zeigt die Ergebnisse mit der Farbkarte an.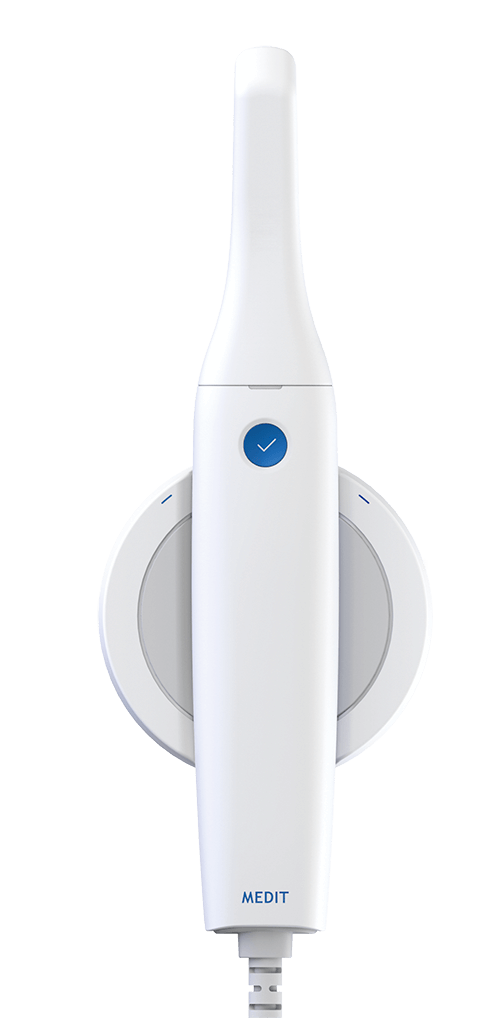 individuelle Abutments
Inlays / Onlays
adjustierte Aufbissschienen
Einzelkronen
Zahnverblendungen
implantatgetragene 3-teilige Brücken
Brücken bis zu 5 Stellen
Kieferorthopädie
Bohrschablonen
Diagnosemodelle
technische Daten

Bildgebende Technologie: 3D-in-motion Videotechnik
Spitze: 19 x 15.2 mm (BxH)
Gesamtlänge des Handstücks: 266 mm
Gewicht: 276 g
Farbe: 3D-Vollfarb-Streaming-Aufnahme
Konnektivität: USB 3.0
Scan Sichtfeld: 14 x 13 mm